In this post Carl Straumsheim of Inside Higher ED reports that a recent "study suggests university presses are publishing fewer books in the humanities… " at least, that is "according to a report on the output of university presses.
After remaining stable from 2009 to 2011, the number of original works in the humanities published by university presses fell both in 2012 and 2013, according to estimates made by Joseph Esposito and Karen Barch, the two publishing consultants who wrote the report. Their numbers suggest presses on average published an estimated 70 such books a year between 2009-13, then 64 in 2012 and 55 in 2013.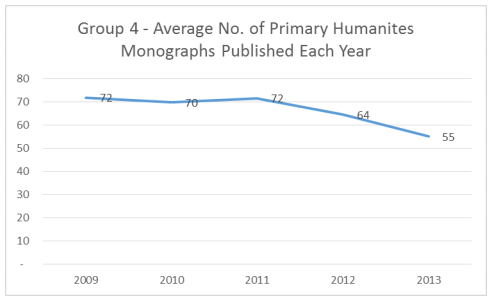 The report, which was funded by the Andrew W. Mellon Foundation, is an attempt to quantify how many books university presses publish a year. The authors surveyed 106 presses and received responses from 65 of them, a sample from which they extrapolated that the presses published about 76,000 books between 2009-13, or about 15,000 books a year. About 3,000 of them are primary humanities monographs…"
(Click here for a link to the full report.)
Tom is originally from Brooklyn N.Y but has spent his entire professional career in South Carolina, most recently as Head of Reference Services at the College of Charleston. As part of the Against the Grain and Charleston Conference team, he serves as the associate editor of the print ATG as well as the co-editor of the webpage. Tom's conference duties include coordinating the Penthouse Suite interviews as well as the conference poster sessions.
He received his MLS from the University of Buffalo, SUNY and a second master's in public administration from the College of Charleston and the Univ. of South Carolina. His wife Carol and he live in downtown Charleston and she is an artist and a tour guide offering historic walking tours of the city.